HATSUYUKI, SWAN AND FUJIMARCA ICE SHAVERS DIRECT IMPORTER
HC-8E, HF-500E, HB-600A, SI-100E AND MC-709SE MACHINES PARTS AND SERVICE
Shaved Ice Machines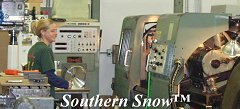 Southern Snow &reg offers Shaved Ice Machines manufactured by Southern Snow, Hatsuyuki, Swan and Fujimarca.
Flavor Concentrates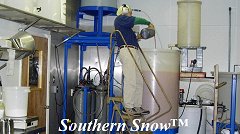 Southern Snow &reg offers over 180 flavors. All flavors are made in-house & are always in stock. Our flavor concentrates cost $11.00/quart or $32/gallon regardless of which flavor you order.
Concession Trailers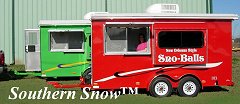 Selling shaved ice from your very own, self-contained concession trailer gives you the freedom to go where the crowds are. We offer turnkey, mobile trailers that are fully equipped and ready to serve. Just hook one up to your pickup, drive to a fair, festival or event and you're in business!
Closed on the following holidays:
Christmas Eve through New Year's day
Mardi Gras day and Monday before (Tuesday before Ash Wednesday)
Good Friday and Saturday

Memorial Day
Independence Day (July 4th)
Labor Day
Thanksgiving Day and Friday